Welcome to DEL LAGO Home Care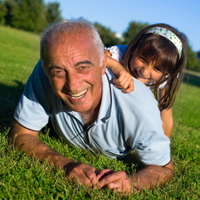 DEL LAGO Home Care is the premier non-medical home care agency in Phoenix, providing a wide range of in-home care services. DEL LAGO Home Care is a locally-owned and operated company and is passionate about serving seniors and those in need throughout the Phoenix area.
As a member of The Senior's Choice, the nation's largest network of independent private duty companies, our mission is to ensure a better quality of life for our elderly clients and their families by providing dependable and affordable care. We are passionate about our home care services and offer a personal touch that enriches the lives of those for whom we care.
Home Care Provides a Helping Hand at Home
Caring for an aging parent or family member can be exhausting, difficult and lonely work – but you are not alone. Thousands of families seek quality senior care every year and find comfort and relief with Del Lago Home Care are an affordable, compassionate home care choice for family caregivers who want to keep their family members at home rather than choosing a nursing home or assisted living facility. Our attentive, dependable caregivers can offer emotional care and quality of life to your loved ones and much needed respite care for you.
Personalized Senior Care
We offer customized in-home care for seniors and those limited by Alzheimer's disease or dementia, patients recovering from surgery – even new mothers. Our team specializes in providing a friendly, helping hand around the house, from basic housekeeping and companionship to personal or memory care services.
Quality Care In Your Home
All Del Lago Home Care caregivers are bonded and insured and have training and certifications that meet or exceed all local, state and national requirements. All qualified caregivers must undergo a thorough background check before they can join the Del Lago Home Care team. Del Lago Home Care is committed to providing the highest level of professional senior care and offers ongoing training to all caregivers and even provides free on-line training for family members so that they have the skills to provide effective care to their loved ones. Providing the highest quality of home care is so important we even have independent researchers measure the quality of care we provide to our clients so you can rest assured your loved one will be cared for with dignity, respect and compassion.
Home Care Customized To Your Needs
Finding the right help for someone you care for can be a difficult decision. Our experienced and friendly staff can help you understand your home care options, compare the costs – and get you help fast. Our team will listen to your needs, review your current situation, evaluate your environment then develop a customized plan of care with you. Many clients find they meet their needs and enjoy an improved quality of life, some with with as little as ten hours of home care services a week. Contact Del Lago Home Care for a complimentary home assessment.
Our focus is to keep you or your loved ones at home, where their hearts are, and avoid loss of friends and possessions, loss of independence and freedom, and loss of spirit which is drained by the battles of daily living. Our caring service makes it possible for the elderly to maintain as much independence as possible, by providing the appropriate in-home assistance and companionship. We pride ourselves on matching highly qualified, compassionate caregivers to fit the personality, interests, and sense of humor of your loved ones. In that way, we lift the spirits not only of seniors, but of the family caregiver, as well.
If you or your loved ones live in the Phoenix area and wish to remain independent in their own home for as long as possible, then contact DEL LAGO Home Care to discuss your care needs. In-home care is our specialty, and we can help!